HOPKINTON, Mass. - August 29, 2009 -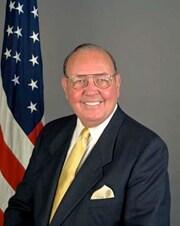 Dick Egan, co-founder of EMC Corporation and former U.S. Ambassador to Ireland, passed away Friday after a long battle with cancer.
Thirty years ago this week, Richard J. "Dick" Egan and his friend and college roommate, Roger Marino, filed incorporation papers with the Commonwealth of Massachusetts to form EMC Corporation. The two successful businessmen shared a desire to build their own company, relying on their experiences and the wisdom gained from previous employers and solid educational foundations.
Mr. Egan passed away Friday after a long battle with cancer. As EMC's Chief Executive Officer until 1992 and Chairman of the Board until 2001, he led EMC through a successful initial public offering and several phases of growth as the company became a global leader in information storage systems and software. Upon his retirement from EMC, Mr. Egan served as U.S. Ambassador to Ireland, his family's ancestral home. EMC today is the world leader in information infrastructure technology and solutions, with more than 40,000 employees around the world.
The following statements pay tribute to Ambassador Egan from four EMC leaders, past and present:
Joseph M. Tucci, EMC Chairman, President and CEO, said, "The world has lost a great man and a great leader. On behalf of more than 40,000 EMC employees from around the world, we extend our deepest condolences to Mrs. Egan and the entire family. Thirty years ago this week, Dick founded EMC with his partner, Roger Marino. Dick's vision became one of the world's top technology companies, and his legacy will live on through the tens of thousands of lives he affected in so many positive ways. We have all lost a great mentor and friend." Mr. Tucci joined EMC in 2000 and has been President and CEO since 2001 and Chairman since 2006.
Michael C. Ruettgers, retired EMC Chairman, President and CEO, said, "Dick Egan stands as one of America's greatest entrepreneurs. To have been able to join him and help build EMC into a world leader was an experience of a lifetime. He was truly a legend, from the halls of EMC to our customers' data centers and boardrooms. I personally learned a great deal from working with him and always enjoyed our working relationship. He will be deeply missed by those of us who were fortunate enough to know him and call him a friend." Mr. Ruettgers joined EMC in 1988, was President and CEO from 1992-2001, and Executive Chairman from 2001-2005.
William J. Teuber, EMC Vice Chairman, head of Customer Operations, and former Chief Financial Officer, said, "Few business leaders in any industry or any generation had the impact that Dick Egan had, from starting a company that would become a Fortune 200 global powerhouse to employing tens of thousands of people to equipping schools with modern computers so the children of the community could learn on new technology. We at EMC are incredibly fortunate to have had Dick as our founder and our enduring inspiration." Mr. Teuber joined EMC in 1995, was Chief Financial Officer from 1997-2006, and has been Vice Chairman since 2006.
Paul T. Dacier, EMC Executive Vice President and General Counsel, said, "In a life filled with achievement and service, Dick Egan had a truly profound impact. He served our country with honor as a U.S. Marine during the Korean conflict. He and Maureen raised a wonderful family. He began a company 30 years ago that became one of the world's most successful technology businesses, supporting tens of thousands of families around the world with great jobs and helping businesses turn their data into valuable information through the innovation of our engineers. Dick was an inspiration to all of us. We are saddened by his passing." Mr. Dacier joined EMC in 1990 and has been General Counsel since 1992.
A native of the Dorchester section of Boston, Ambassador Egan graduated from Boston Technical High School and served in the U.S. Marine Corps during the Korean conflict. He completed his tour of duty and earned a degree in Electrical Engineering from Northeastern University, where, decades later, the Egan Engineering and Science Research Center would be named in his honor. He earned a master of science from the Massachusetts Institute of Technology, and subsequently joined MIT's Draper Laboratory as part of the team that developed the Apollo Guidance Computer, which provided reliable real-time control for the Apollo spacecraft that carried U.S. astronauts to the moon. He continued his professional career with NASA, Lockheed Aircraft and Intel Corporation.
A leader in educational, business and technology communities, Ambassador Egan served as Director of the Massachusetts High Technology Council and Business Roundtable, Director of the New York Stock Exchange Advisory Board, and founder of the Hopkinton Technology for Education Foundation.
He received honorary degrees from Northeastern University, New England Institute of Technology and the University of Ulster. In 1994, Inc. Magazine named him "Master Entrepreneur of the Year." He is also the recipient of the Medal of Honor Society's Patriot Award, the Jewish National Fund's Tree of Life Award, and one of Irish America Magazine's "Top 100".
Ambassador Egan and Maureen Fitzgerald were married in 1956 and raised five children.