TOKYO, Japan - March 24, 2008 -
As Major League Baseball travels to Tokyo for the RICOH JAPAN OPENING SERIES 2008, the defending World Series champion Boston Red Sox will begin their quest to repeat with a pair of games against the Oakland A's at the Tokyo Dome on March 25 and 26. Just as it was throughout their 2007 championship season, the Red Sox' EMC information infrastructure will be working in the background to help provide an information advantage. This time, though, the Red Sox also will be wearing their technology advantage on their sleeves when they take the field with an EMC logo patch that symbolizes the organization's use of advanced information management tools.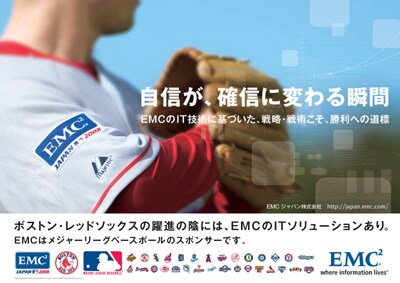 TOKYO, Japan - March 24, 2008 – EMC is running this ad on Tokyo Metro trains during the Ricoh Japan Opening Series, featuring the Boston Red Sox and Oakland A's March 25-26 at the Tokyo Dome. In English, the ad's headline says: "The moment when confidence becomes conviction. IT strategy based on EMC's technology is the winning approach."
EMC Corporation, the world leader in information infrastructure solutions, is an Official Sponsor of Major League Baseball (MLB) Japan, and has expanded its partnership with the Boston Red Sox to support the RICOH JAPAN OPENING SERIES 2008. For the games in Japan, the Red Sox will wear specially designed sleeve patches featuring the EMC and "JAPAN 2008" logos, marking the first-ever sponsor logo on the team's uniforms. The initiative reinforces EMC's growing presence and supports the company's expanding brand awareness in Japan, one of the world's largest and most advanced markets for information technology.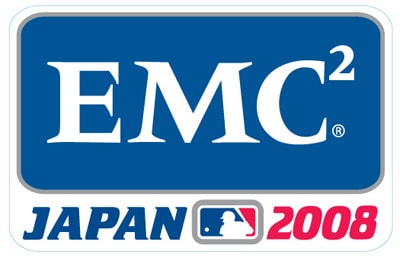 TOKYO, Japan - March 24, 2008 - Wearing their technology advantage on their sleeves, the Boston Red Sox will take the field with this EMC sleeve patch on their right shoulders for the Ricoh Japan Opening Series March 25-26 at the Tokyo Dome. This will mark the first time in their history the Red Sox have worn a sponsor logo on their uniforms.
Toshio Morohoshi, President of EMC Japan, said, "The RICOH JAPAN OPENING SERIES 2008 is incredibly exciting for Japan. Millions of people will be following the action with great interest. The people of EMC Japan, on behalf of our many customers and our important partners, are honored to play an official role in sponsoring MLB Japan and the Boston Red Sox for this historic week."
Larry Lucchino, President/CEO of the Boston Red Sox, said, "EMC and the Red Sox have been marketing and IT partners through a period of unprecedented success for both organizations. Our EMC information infrastructure has been instrumental in providing our coaches and players with the ability to research and evaluate their own performances, as well as the opposition's performances in real time. We are proud to have EMC at our side and on our sleeves for the historic Opening Series in Japan."
Supporting their talent with technology
EMC provides state-of-the-art mobile information storage, which allows Red Sox players and coaches to access digitized video of their own performances and mechanics as well as their opponents', whether the team is on the road or at Fenway Park in Boston. The system will be up and running at the Tokyo Dome.
"Just as a player wouldn't step into the batter's box without a bat, this team wouldn't fly without its EMC information infrastructure," said Steve Conley, the Red Sox' Director of Information Technology. "The players don't care how the system works, they just assume it will. If they ask to see video on a player, they're going to get video on that player right there on the spot. Using EMC, we are able to get our video fast, we know it's safe and protected, and we know it's going to be there."
"I don't think there's a player on our team who doesn't use the video system," said Francona, who has led the team to two World Series titles in his four seasons as manager. "We're trying to gain advantages any way we can. We're trying to learn as much as we can about the game and put our players in the best position to succeed."
As the Official Information Infrastructure Provider of the Boston Red Sox, EMC provides the systems, software and services that enable a variety of traditional business applications, such as e-mail, transaction systems, and online editing of video and other content for the broadcast and print news media, as well as some highly specialized ones, such as digitized video access. In total, the Red Sox have deployed nearly 100 terabytes of capacity on EMC networked storage systems, including EMC® Celerra® NS40 and NS20 and EMC CLARiiON CX 3-80 networked storage systems, an EMC Centera® CAS (content addressed storage) system, an EMC Disk Library virtual tape library system, and a range of EMC software to help manage, protect and archive their information.